An internal dispute on the AUKUS security pact has spilt out on the floor of Labor's national conference on Friday.
Support for AUKUS will remain a key part of the Labor Party's platform despite an internal dispute and a spirited debate on the floor of the national conference on Friday.
After a delay to allow Prime Minister Anthony Albanese to speak, Defence Minister Richard Marles moved to include a "statement of detail", offering specific reasons for Labor's support of the historic trilateral pact inked by the previous Coalition government in a bid to quell internal unrest.
The statement details that AUKUS and nuclear-powered submarines are consistent with Labor's values, noting that the program will offer Australians well-paid jobs and support local industry.
After a lively debate led by Mr Marles, and AUKUS opponent Electoral Trades Union delegate Michael Wright, Mr Albanese closed out the session by seeking to dispel concerns that the AUKUS partnership would cede Australia's sovereign capability.
He said AUKUS would be the catalyst for "20,000 well-paid, unionised jobs" and warned delegates unhappy with the trilateral pact that it was necessary to keep Australia engaged and defended.
He said AUKUS was an "act of clear-eyed pragmatism" that worked in the national interest and for the greater good.
"The strategic complexity that we face is far removed from the bleak certainties of the Cold War. We have to analyse the world as it is, rather than as we want it to be," Mr Albanese said.
"We have to bring our defence capabilities up to speed, and AUKUS is central to that."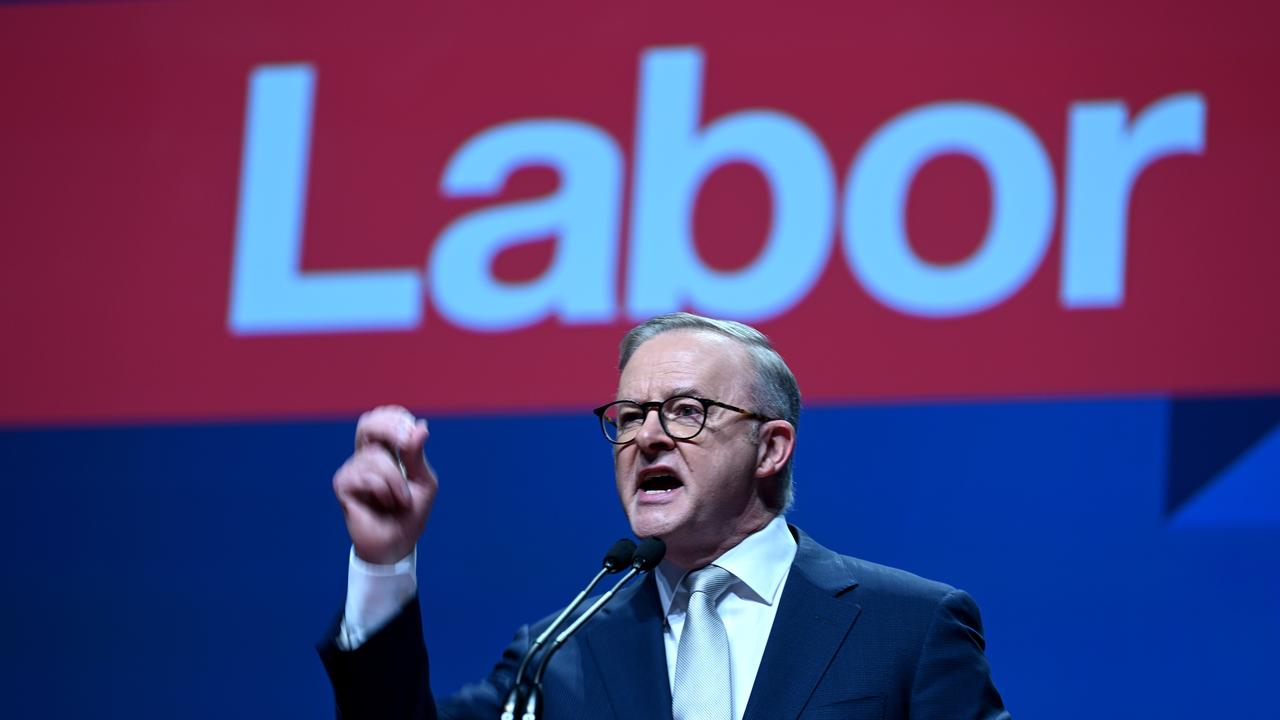 Anthony Albanese is confident Labor will adopt AUKUS in the party platform. Picture: Dan Peled / NCA NewsWire
In moving the statement of detail, Mr Marles told the hundreds of voting delegates that AUKUS was a "modest step" and without adapting to nuclear-powered submarines the country would be left exposed to adversaries.
He said it was a "hard choice but a clear choice".
As he spoke, unhappy Labor members shouted back from the floor and the stands, saying AUKUS "wasn't giving us independence" but "tying us to the US".
Mr Marles told delegates that he knew nuclear evoked a "strong reaction" but said AUKUS wasn't about nuclear weapons but nuclear propulsion".
He said Australia would fulfil its obligations under the Non Proliferation Treaty and under the Treaty of Rarotonga.
"We will never base nuclear weapons on our shores," he said.
"If we take submarines off the table, we will never have left our country more exposed. And that will undermine the whole idea of Australian self-reliance, which is at the heart of our platform, delegates. This is a hard choice, but it is actually a clear choice."
Defence Minister Richard Marles led the lively debate. Picture: NCA NewsWire / Martin Ollman

Mr Wright called on delegates to back an amendment that would completely strip mention of AUKUS from the Labor Party's national platform.
He said the union had serious concerns around nuclear waste – saying there was "no good solution for highly enriched nuclear waste" – as well as the price tag and compliance with nuclear proliferation.
"What my resolution does is merely keep the window open to further an ongoing debate to further and ongoing consideration so that this conference and future conferences can again return and ensure that this is the right decision in Australia's national insurance. That is all the difference," he said.
Despite a loud vote in favour of Mr Wright's amendment, the delegates overwhelmingly voted to support AUKUS on the voices, and no one called for a card count.
Whatever amendments agreed to at national conference are binding on the federal party.
Government delegate 'not convinced' by AUKUS
Mr Wright was backed by West Australian MP Josh Wilson, who spoke in favour of striking AUKUS from the party's platform.
He said he was "not convinced the acquisition of nuclear-propelled submarines through the AUKUS agreement is in Australia's national interest".
He said he held serious concerns about the Morrison government's mismanagement of the project, calling it a "characteristically poor process".
"In my view, the decision to acquire nuclear-propelled submarines is not justified, and it involves too many risks," he said.
"Deterrence is a valid strategic concept and submarines certainly have a deterrent value, but deterrence is not a one-word justification for any and every defence acquisition."
As is the case at party conferences, he is allowed to speak freely, even if against a government motion.
Anti AUKUS Labor members protested outside the ALP conference on Friday. Picture: NCA NewsWire
Felicity Wade, from the Labor for Environmental Action Network, said there was a "deep anti-nuke sentiment" among members.
"I'm scared that a world with more nuclear power is a more dangerous world. I'm scared of what nuclear powered submarines mean for militarisation," she said.
"I'm scared of accidents … I'm scared of this leading to that … I'm just scared."
Union backs AUKUS
Defence Industry Minister Pat Conroy sought to allay fears that AUKUS would start a regional arms race, saying there was one already under way.
He said AUKUS was "vital" to national security and national defence as the country faced the most uncertain strategic circumstances since the Second World War, listing examples including Russia's invasion of Ukraine, crackdowns on protests in Hong Kong, and the building of artificial islands.
As members shouted back from the floor, Mr Conroy said Labor was proudly "anti-war" and AUKUS "deters war".
"If you're pro-human rights, you need to be pro-AUKUS," he said.
Australian Workers' Union national secretary Paul Farrow spoke in support of the government's proposed statement in detail, telling delegates to back the government because it was clearly acting on the advice of experts.
Mr Albanese closed out debate, telling delegates: "Australia has a role and indeed a responsibility to engage in our region and the wider world, and to fulfil these objectives to sustain and strengthen Australia's place in the world our government is investing in our capabilities.
"A partnership with two of Australia's oldest friends through (AUKUS) is consistent with Labor values I've been a part of my whole life.
"Nuclear-powered submarines are what Australia needs in the future. Submarines are important to our defence capability … The submarines will be in Australia's sovereign capability
"We are committed to stability and the preservation of the international rules based system in the wider region.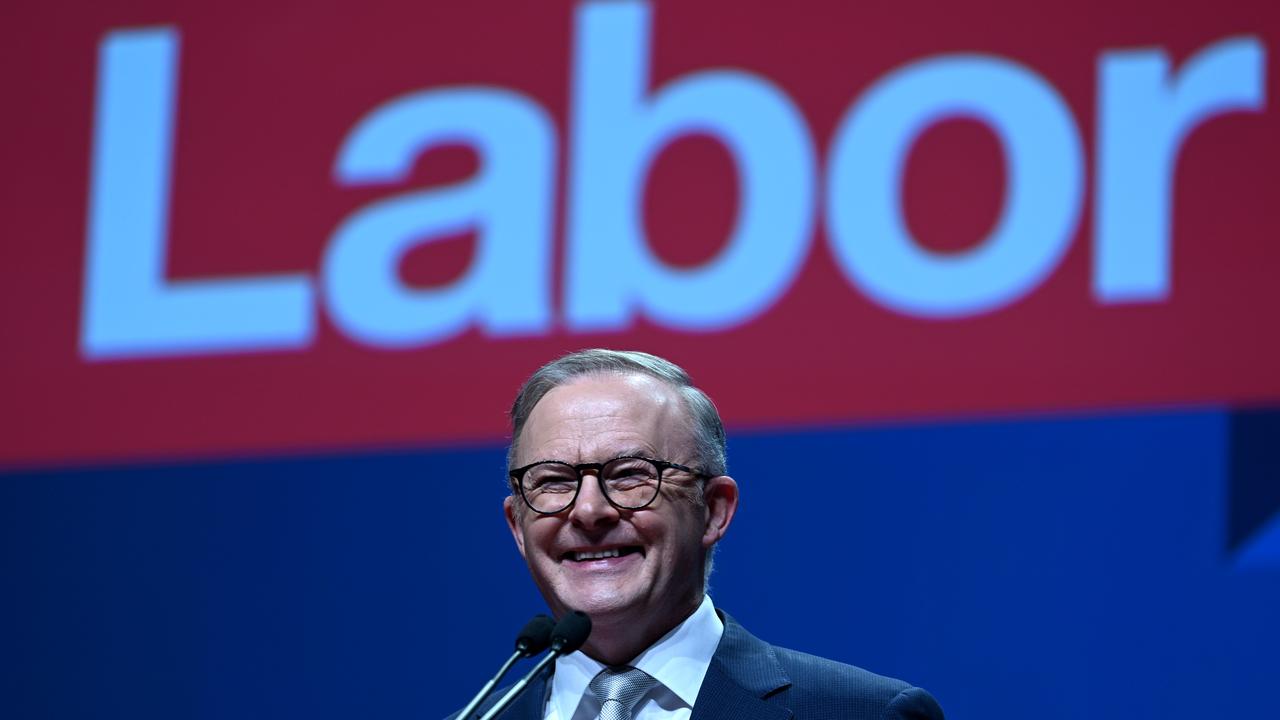 Mr Albanese spoke in support of AUKUS. Picture: Dan Peled / NCA NewsWire
Labor supports 'reunification of Ireland'
Among other resolutions during the first session on Friday, Labor agreed to index the temporary skilled migration income threshold, extend the community-sponsored refugee program, and abolish temporary protection visas.
Labor agreed to condemn China's human rights violations, the Iranian regime, and Russia's ongoing war on Ukraine.
Interestingly, delegates agreed to an amendment that supported the reunification of Ireland.
The floor also passed an amendment making clear Labor's commitment to nuclear non-proliferation.
Delegates also heard from both pro-Israel and pro-Palestine delegates after a pre-conference agreement was struck for Labor to revert to recognising West Bank settlements as "occupied Palestinian territories".
In a later session around strengthening Australia's democracy, the party agreed to commit to increasing representation of the ACT and the NT in the Senate. Currently, both territories have only two senate seats compared with 12 seats per state. The party also agreed to better support media diversity.
Source : NT News