WASHINGTON — Titans of business, fashion, entertainment and more made the guest list for Thursday's big White House dinner in honor India's Narendra Modi, with the likes of designer Ralph Lauren, filmmaker M. Night Shyamalan and tennis legend Billie Jean King rubbing shoulders with tech leaders from Apple, Google and Microsoft.
Shyamalan powered past reporters as he arrived, declaring it was "lovely" to be at the White House. Lauren revealed he'd designed first lady Jill Biden's off-shoulder green gown for the occasion, calling her style "chic and elegant." And violinist Joshua Bell, part of the after-dinner entertainment, said the evening was a "little different than anything I've done before."
"I'll skip out and practice for half an hour" during dinner, he reported.
Saris and sequins were prominent among those attending the splashy event, with a guest list of about 400 names heavy with prominent Indian Americans. Politicians of both parties also made the cut, notably including Republican House Speaker Kevin McCarthy and House Majority Leader Steve Scalise.
Other notables on the guest list included social media influencer Jay Shetty, big Democratic donors including Florida lawyer John Morgan and civil rights activist Martin Luther King III. The CEO contingent included Apple's Tim Cook, Google's Sundar Pichai and Microsoft's Satya Nadella.
Guests were to dine on a plant-based menu of millet, mushrooms and strawberry shortcake, catering to the vegetarian tastes of the prime minister. For guests wanting something more, there was roast sea bass available on request.
Despite deep differences over human rights and India's stance on Russia's war in Ukraine, President Joe Biden extended to Modi the administration's third invitation for a state visit. It included the state dinner, a high diplomatic honor that the U.S. reserves for its closest allies.
Biden hopes all the pomp and attention being lavished on Modi — from the thousands who gathered on the White House lawn to cheer his arrival in the morning to the splashy dinner at the end of the day — will help him firm up relations with the leader of a country the U.S. believes will be a pivotal force in Asia for decades to come.
Guests were riding trolley cars down to a pavilion erected on the White House south grounds decorated in the green and saffron colors of India's flag.
Despite concerns about backsliding on democracy in India, Representative Pramila Jayapal, D-Wash., said she was attending to send the message that the nation of 1.4 billion people is important and "we must call out some of the real issues that are threatening the viability of democracy in all of our countries."
A group of more than 70 lawmakers, organized by Jayapal, wrote to Biden this week urging him to raise concerns about the erosion of religious, press and political freedoms with Modi.
Jayapal, who praised Modi's leadership skills, told The Associated Press earlier that Modi "has the ability to move India and the people in his party back to the values that we have held so dear as a country."
Pichai said he looked forward to the dinner as "an exciting time for U.S.-India relations."
"I think we have two countries which have a lot of shared foundations, large democratic systems and values," Pichai said earlier Thursday in an interview. He cited technology as one area of mutual interest between the nations. "So I think it's an exciting opportunity. I'm glad there is a lot of investment in a bilateral relationship."
Jill Biden enlisted California-based chef Nancy Curtis to help in the kitchen. Curtis specializes in plant-based cooking and said the menu "showcases the best of American cuisine seasoned with Indian elements and flavors." She said she used millet because India is leading an international year of recognition for the grain.
The dinner featured a salad of marinated millet, corn and compressed watermelon, stuffed Portobello mushrooms and saffron risotto, and a strawberry shortcake infused with cardamom and rose syrup.
Lotus flowers, which are native to Asia and featured in Indian design, were visible throughout the pavilion, along with saffron-hued floral arrangements that differed from table to table.
"We hope guests feel as if someone has set that table just for them — because we have," the first lady said as she and her staff previewed the setup.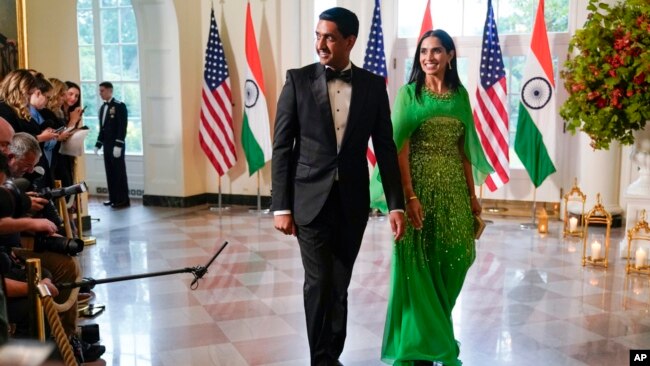 After-dinner entertainment was from Bell; Penn Masala, a South Asian a cappella group founded by students at the University of Pennsylvania; and the U.S. Marine Band Chamber Orchestra.
India was last honored with a state visit in 2009, when President Barack Obama pulled out all the stops for Prime Minister Manmohan Singh. More than 300 guests attended what was the first big social event of the new administration.
But it made headlines worldwide after a celebrity-seeking husband and wife were admitted, even though they were not invited, and were able to interact with both leaders.
The embarrassing episode led the White House and U.S. Secret Service, which protects the president and the executive mansion, to overhaul its clearance and security procedures.
Source : VOA News