Heklina was loud, bright and larger than life. It's only right that a mural commemorating her should be, too.
On Monday, Oakland-based queer multimedia artist Josh Katz unveiled his new mural on the side of Cafe Flore, which is under renovation, in the Castro. Emblazoned on the side of the building is Heklina's face, mouth agape, framed by an overflowing blond wig and two heavily ringed hands.
"I wanted to find a picture of Heklina where she looked sort of wild," says Katz, whose murals can also be seen on Telegraph Avenue in Berkeley, in Downtown Oakland and at Oasis nightclub (formerly co-owned by Heklina). "As if she was in the middle of the performance. I wanted to capture that energy that she would bring to the stage."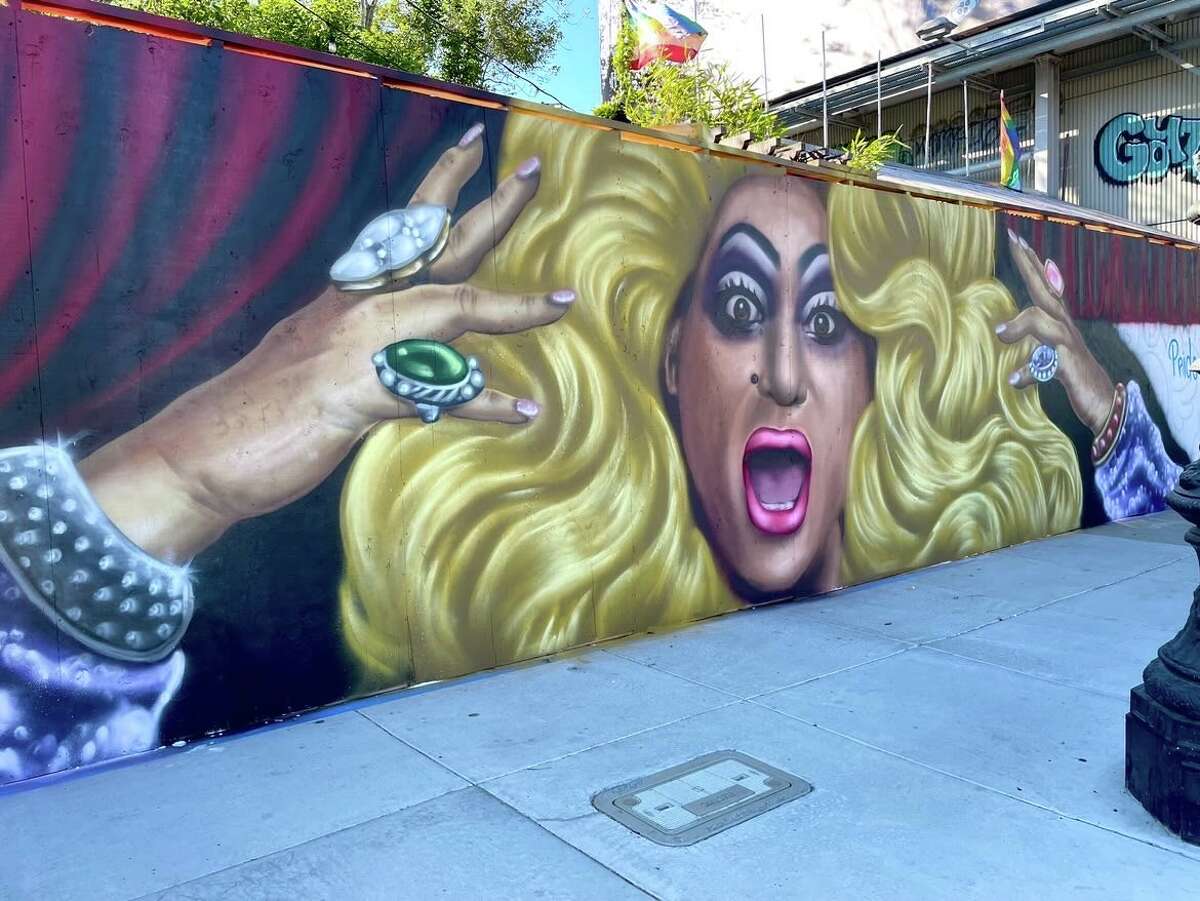 Katz, who started out as a painter, made his first forays into public murals with sprawling geometric and floral designs. It wasn't until 2020 that he began producing a series of murals commemorating heroes of the LGBTQ+ communities in the Bay Area, including disco legend Sylvester, Juanita More, Harvey Milk and Mama Celeste.
When Heklina started T-Shack (later renamed "Mother") at The Stud in 1996, it quickly became an institution of the San Francisco drag scene. "Institution" isn't quite the right word, though, as T-Shack was, if anything, an anti-institution. It was a DIY, punk-inspired, anything-goes drag show, where the only rule was that there were no rules and performers flouted established drag conventions. Over the years, T-Shack's notoriety grew, to the point where it attracted international stars like Lady Gaga and Siouxsie Sioux, of Siouxsie and the Banshees.
When Heklina died in April at 55 years old, San Francisco celebrated her life by shutting down the busiest stretch of Castro Street for over 12 hours. Inside a packed Castro Theatre, Heklina's friends, fellow drag queens, collaborators and proteges stepped onto the stage to perform, crack jokes and recall fond memories. Mourners-turned-revelers danced in the street.
"Heklina built the infrastructure for generations of queens to come and perform and to inspire each other," Katz, 31, said. "She threw events that were gathering places for people to meet and create art together, and those ripples have proliferated through the entire world of drag."
The new mural commemorates Heklina's seismic impact on drag and LGBTQ+ communities, not only in San Francisco but internationally. "Queens have come from all around the world to attend the shows that she threw, and people that lived in San Francisco have gone all over the world to perform," Katz said.
"They were sort of making art together with Heklina," he added. "That energy has inspired so many people that it's really hard to measure."
Source:  San Francisco Gate