As Labor's factions prepare for a heated debate on AUKUS, Opposition Leader Peter Dutton has pleaded with them to back in national security.
An internal dispute over the AUKUS deal is set to spill out onto the floor of the Labor Party's national conference on Friday, as the Coalition pleads for national security to take priority over "factional fights".
After a first day dominated by talks on the economy, climate, and health and social services; Labor's highest decision making forum will move to discuss Australia's "place in a changing world".
Voting delegates will be tasked with considering a number of amendments to the party's binding national platform, including on the trilateral deal.
Deputy Prime Minister and Defence Minister Richard Marles; alongside Defence Industry Minister Pat Conroy will move to include an extra "statement of detail", offering specific reasons for Labor's support of the historic deal inked by the previous Coalition government in a bid to quell internal unrest.
Mr Marles will say AUKUS and nuclear-powered submarines are consistent with Labor's values, noting that the program will offer Australians well-paid jobs and will support local industry.
But delegates from Labor subgroup, Labor Against War are set to be among those speaking up against the AUKUS deal, and will call for a removal of any mention of the trilateral agreement from the party's platform.
Prime Minister Anthony Albanese has hinted that he would be involved directly in the debate.
Mr Albanese was asked on 7.30 if he the party faithful at the conference should hear directly from him on the matter.
"Quite possibly they will be … tomorrow," Mr Albanese said.
Whatever amendments are agreed to at national conference are binding on the federal party.
Opposition Leader Peter Dutton in an open letter to the Labor Party, called on party members to "vote down those motions which oppose AUKUS", saying national security was a matter "beyond politics".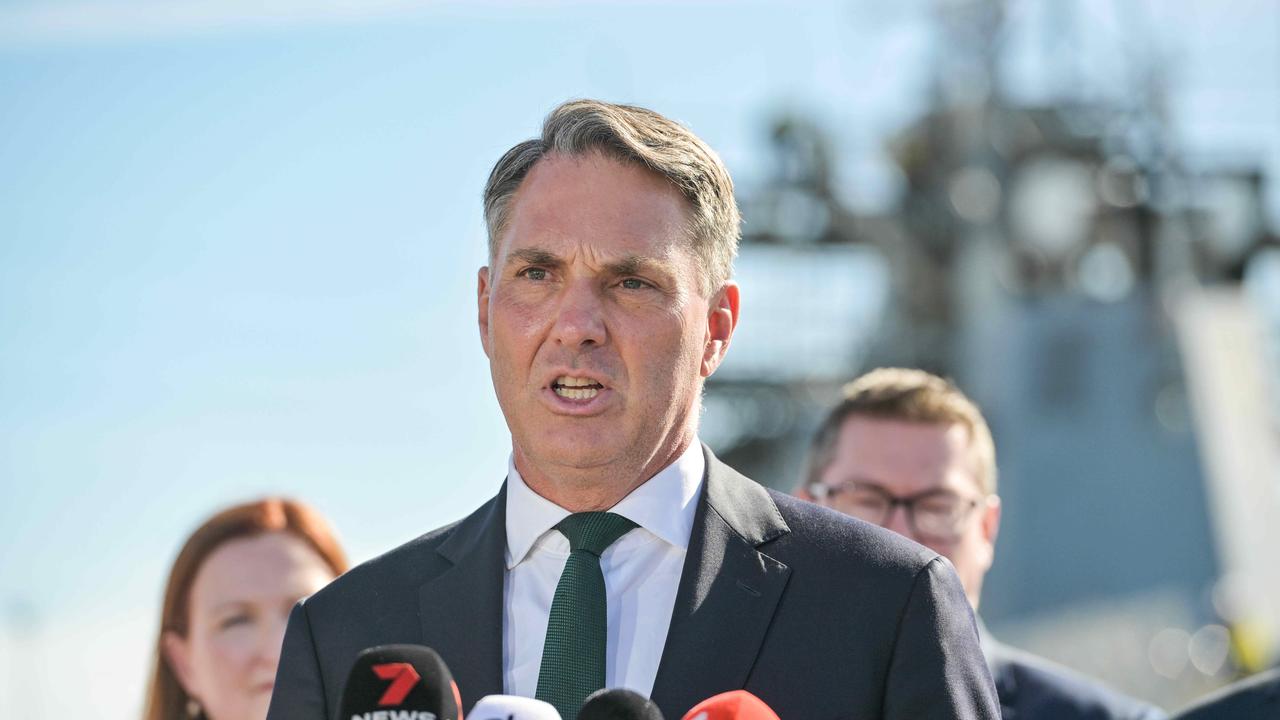 Defence Minister and Deputy Prime Minister Richard Marles will seek to back in AUKUS at Labor's national conference on Friday. Picture: NCA NewsWire / Brenton Edwards
"In these times, we all need to put the national interest ahead of sectional interests; the safety and security of our nation ahead of factional fights," Mr Dutton said.
"We need to send a message to our allies and any adversary, that when it comes to national security, the Australian parliament stands united. In that spirit, let the Labor Party and the Liberal Party stand together in our support of AUKUS and our determination to deter aggression and maintain peace."
More than 50 Labor Party units have passed anti-AUKUS motions, calling on the government to review the partnership, with some having called for a ceasing of any funding until a public inquiry is underway.
Labor Against War national convenor Marcus Strom said Labor's rank and file "overwhelmingly oppose AUKUS", and while the anti-AUKUS amendments are not expected to pass the floor, he said it was a victory "just to force the debate onto the conference floor".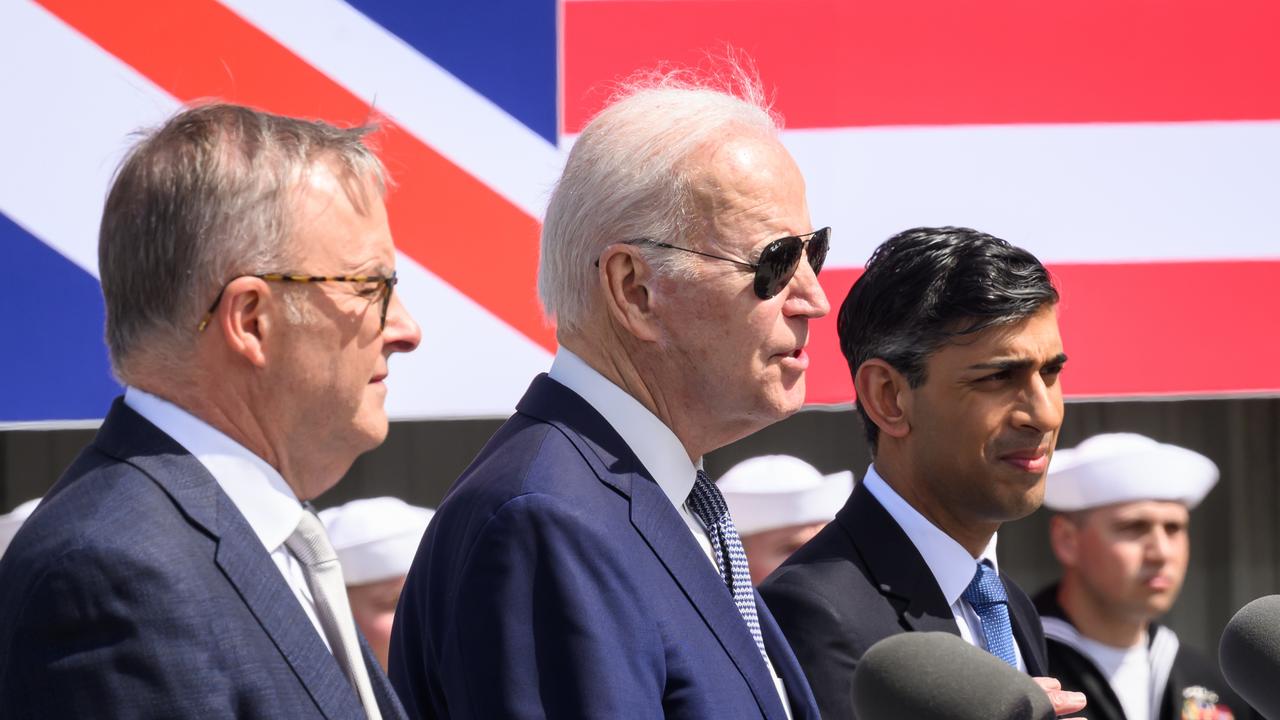 The AUKUS deal was finalised and announced earlier this year in conjunction with the UK and the US. Picture: Leon Neal/Getty Images
"Labor's rank and file see (AUKUS) as a loss of sovereignty, opening the door to a nuclear industry and a dangerous step putting Australia on an unnecessary 'war footing' with our largest trading partner," he said.
Founding patron of LAW, former senator Doug Cameron, said ahead of the debate that Australia must "have the capacity to defend our country", but warned "a handful of expensive, complex nuclear subs in the distant future instead of broad-based capabilities makes no sense".
Left-aligned unions were still considering what way they would vote on Thursday, with indication some might instead favour a resolution calling for the government to provide more assurances around the submarines program and the disposal of nuclear waste.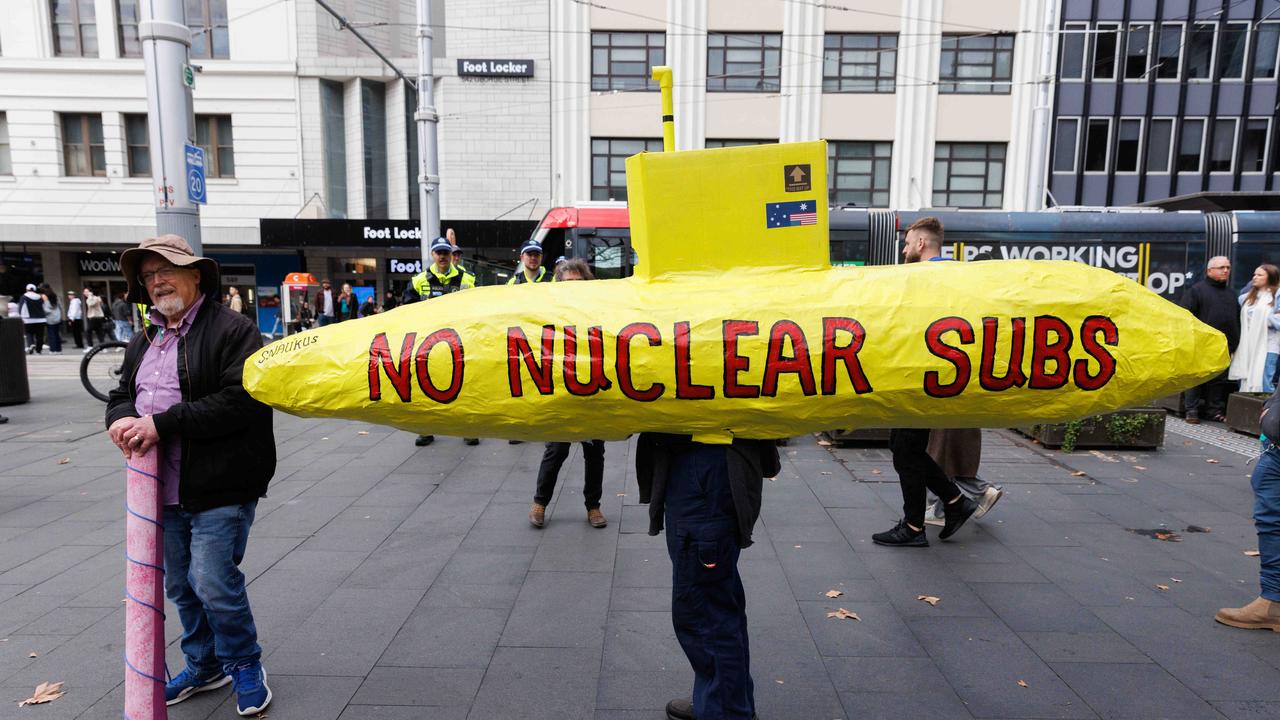 At least 50 Labor branches have passed anti-AUKUS motions. Picture: NCA NewsWire / David Swift
Meanwhile, Mr Marles' additional statement will say that Australia's military defence capability sits alongside the country's diplomatic efforts, as part of Australia's role in regional deterrence of aggression.
He's will say investing in nuclear powered submarines is first and foremost an investment in local jobs and building an industry
"Labor will ensure that the nuclear-powered submarine program will deliver secure, well-paid unionised jobs and establish a skills and training centre of excellence, with Australian workers trained in the latest technologies that add to Australia's sovereign capability," he will say.
He will say that Australia is best placed to ward off any potential aggressor by not only working with partners, but having strong defence capabilities of our own.
Mr Marles will also use proposed statement to tell delegates the party will redouble is efforts to strengthen the nuclear non-proliferation and disarmament regime.
Delegates are set to agree that Labor should ensure Australia remains fully committed to the Treaty of Rarotonga.
Source : Geelong Advertiser