Washington: After 22 days of paralysis, four nominees and multiple backroom brawls, the US finally has a new House Speaker, electing a Donald Trump ally who backed his attempt to overturn the 2020 presidential election.
Three weeks after Kevin McCarthy was ousted from the job, Republicans put aside their differences for long enough to appoint Louisiana lawyer Mike Johnson as his replacement.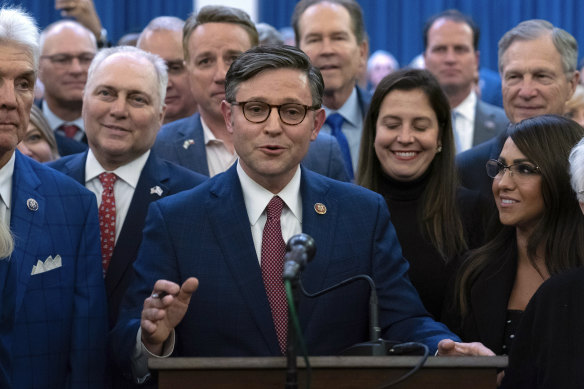 The move ends an unprecedented period in Washington, in which Congress was unable to pass legislation, approve more funding for Israel or Ukraine, or give Prime Minister Anthony Albanese a platform to do a joint address as part of his state visit this week.
Asked during a press conference with President Joe Biden if he was concerned about the passage of AUKUS legislation, and whether the dysfunction made the US an unreliable partner, Albanese replied: "I regard the United States as a very reliable partner, and I regard the relationship that I have with the president as second to none of the relationships that I have around the world – or indeed domestically for that matter."
"I'm very confident in the discussions that I've had with Democrats and Republicans that there is very broad support for the AUKUS arrangements and that there will be support for the legislation going forward," he said.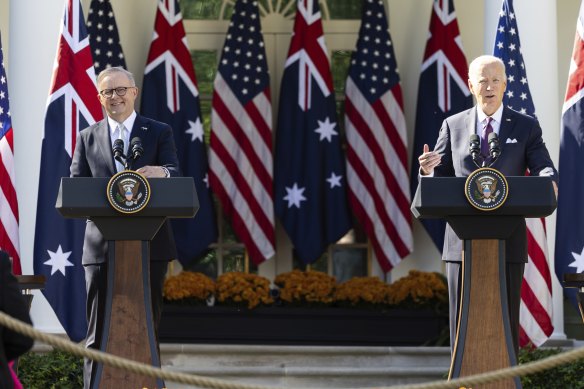 Johnson's appointment came after Republican infighting resulted in three other nominees being blocked from becoming Speaker.
In the weeks since McCarthy was ousted by a small group of rebels in his ranks, Majority House leader Steve Scalise, House judiciary chairman Jim Jordan and Minnesota moderate Tom Emmett were all nominated to replace him, but each withdrew after they couldn't find the 217 votes needed.
Johnson, 51, is a relatively low profile Republican who benefited from having fewer party enemies than other nominees. He also received the backing of Trump, who told reporters in New York on Wednesday: "I think he's gonna be a fantastic Speaker… Everybody likes him."
However, Democrats have hit out at Johnson's history, which includes opposing legislation to mandate recognition of marriage equality, being fiercely against access to abortion, and playing a key role in trying to overturn the 2020 election results.
Namely, he was the organiser of an amicus brief, or legal opinion, backing a Texas-led lawsuit asking the Supreme Court to intervene in the vote counting in some states won by Biden.
"As it turned out, the one indispensable quality you had to have to become speaker was to be an election denier," former Obama adviser David Axelrod wrote on social media.
The deeply divided House of Representatives now has only a few weeks to negotiate a deal to avoid a government shutdown that could force millions of Americans to lose pay or access to services when departments run out of money.
The infighting in the Republican Party took a particularly nasty turn last week, when some of Jordan's anonymous supporters began issuing death threats and vile messages to politicians who refused to support him.
"You're gonna keep getting calls and emails – I'm putting all your information on the internet now," said an anonymous caller to the wife of one Republican, in audio leaked to CNN. "You will not be left alone because of your f—— f—– husband. You're going to be molested like you can't ever imagine."
For now, however, most Republicans have united behind Johnson, who secured 220 votes, three more than needed, to win the gavel.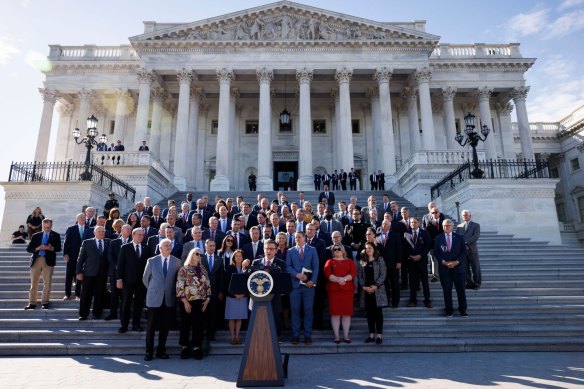 "While there are issues where we differ, we must get back to governing for the good of the country," New York moderate Mike Lawler wrote on social media, posting a photo of himself and the new Speaker shaking hands.
In his first action as leader, Johnson called up a resolution supporting Israel in its war with Hamas. "The first bill I'm going to bring to this floor in a little while will be in support of our dear friend Israel and we are overdue in getting that done," Johnson said as he accepted the speakership. The House backed the resolution by 412 to 10, Reuters reported.
Source : The Sydney Morning Herald