Fisherman Wharf's Umbrella Alley, a self-described "must-visit for anyone who loves art and imagination," is a tourist trap. But who cares? In terms of things "wrong" with San Francisco, a former parking-lot-turned-collection-of-selfie-walls doesn't even make the list. In fact, Umbrella Alley, made up of murals created by local artists set under umbrellas and balloons, is cute (in a built-for-Instagram kinda way). And, visitor reviews are almost universally glowing. So how could we not love a spot that helps people discover Bay Area artists, and while technically free, cleverly encourages visitors to tip the contributing artists via Venmo?
If you want to snap a few photos in front of a larger-than-life vintage San Francisco postcard or pose with a crab-toting honey bear by controversial street artist fnnch before you hop on a Segway to cruise around the Wharf, we won't judge you (read on to learn how to do it). Just don't go to Umbrella Alley and think you've seen the city's most famous alley or truly experienced the breadth of San Francisco street art.
All art is worthy, even the safe-for-tourists art, but the murals that truly define San Francisco often tell difficult stories of resistance and reflect diverse, resilient communities you're not likely to see at Umbrella Alley. And with more than 1,000 works gracing the city's buildings and more going up all the time, there's much to discover in San Francisco's nooks and crannies and alleyways.
So read on for everything you need to know about Umbrella Alley — then go explore five other iconic San Francisco murals that locals love, too.
Umbrella Alley, a colorful place to book tours
If you find yourself on Beach Street, fresh off a Buena Vista Irish coffee or a stroll around Aquatic Park and wondering what to do next, Umbrella Alley offers an easy answer to your dilemma. A narrow entryway to a partially covered parking lot between Larkin and Hyde streets gives way to multicolored balloons and umbrellas that hang over 12 murals. It's quite a sight; it's also a parking lot for popular tour vehicles.
The idea is that you'll pose for a few pics, then book a tour with one of the tour companies that share walls with the alley, while inadvertently advertising for said tours through your #umbrellaalley-tagged social media posts. We respect the hustle and all the options — there are tuk tuk tours and electric scooter tours, among others — and appreciate signs encouraging people to send tips to the contributing artists (the recommended donation is $3 for each child and $5 for each adult per photo). Umbrella Alley does a good job of highlighting the contributing artists and providing context for their creations, which is a great way to discover local painters. (Note: While joining a tour is encouraged, it's definitely not required. You can just go to see the art and snap a few photos.)
Find it: Umbrella Alley, 757 Beach St., San Francisco, CA 94108
Where to find 5 more famous alleyways in San Francisco
San Francisco is full of hidden staircases, charming side streets and alleys with murals that make the city a pedestrian's paradise. The best way to explore San Francisco's murals is on foot. The site SF Mural Arts does a great job of cataloging historic and new murals. There are also several walking tours that are well worth it, even for locals: Precita Eyes Muralists offers tours in the Mission, where the city's greatest concentration of murals turns almost every block into an outdoor gallery, while a Bruce Lee walking tour of Chinatown stops by three murals inspired by the star.
Here are a few other famous alleys in San Francisco to add to your bucket list.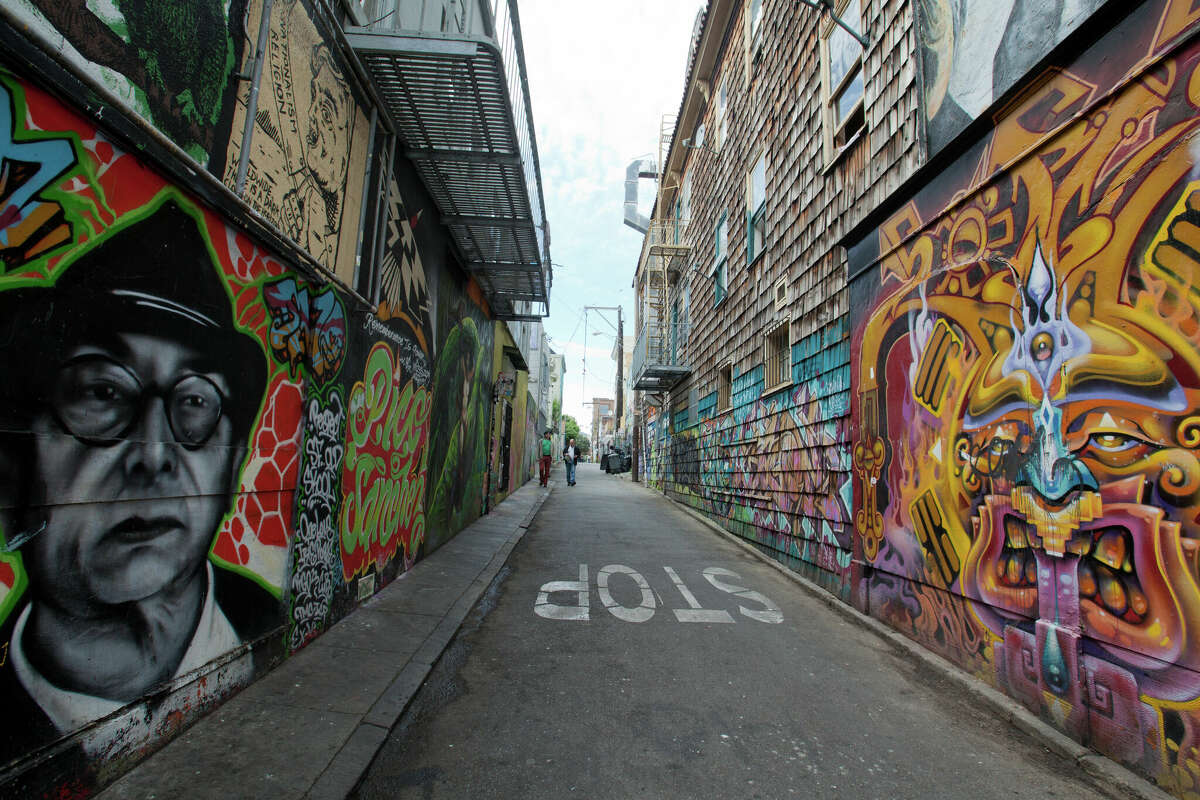 Clarion Alley Mural Project
Perhaps SF's most famous and provocative alley of murals, Clarion Alley has featured more than 900 works of art on this small but vibrant strip between Valencia and Mission streets since the project started in the early 1990s. The artist-run organization uses public art as a way to support social, economic, racial and environmental justice storytelling and change.
Find it: Clarion Alley Mural Project, 90 Clarion Alley, San Francisco, CA 94110
Hotaling Place
If you're looking to explore San Francisco's oldest alley, head to where Columbus Avenue meets downtown San Francisco. Here you'll find markings in the pavement that show where San Francisco's original shoreline once was, while you walk one of the city's most unique streets, teeming with history.
Find it: Enter from Washington and Columbus and turn onto Hotaling Place.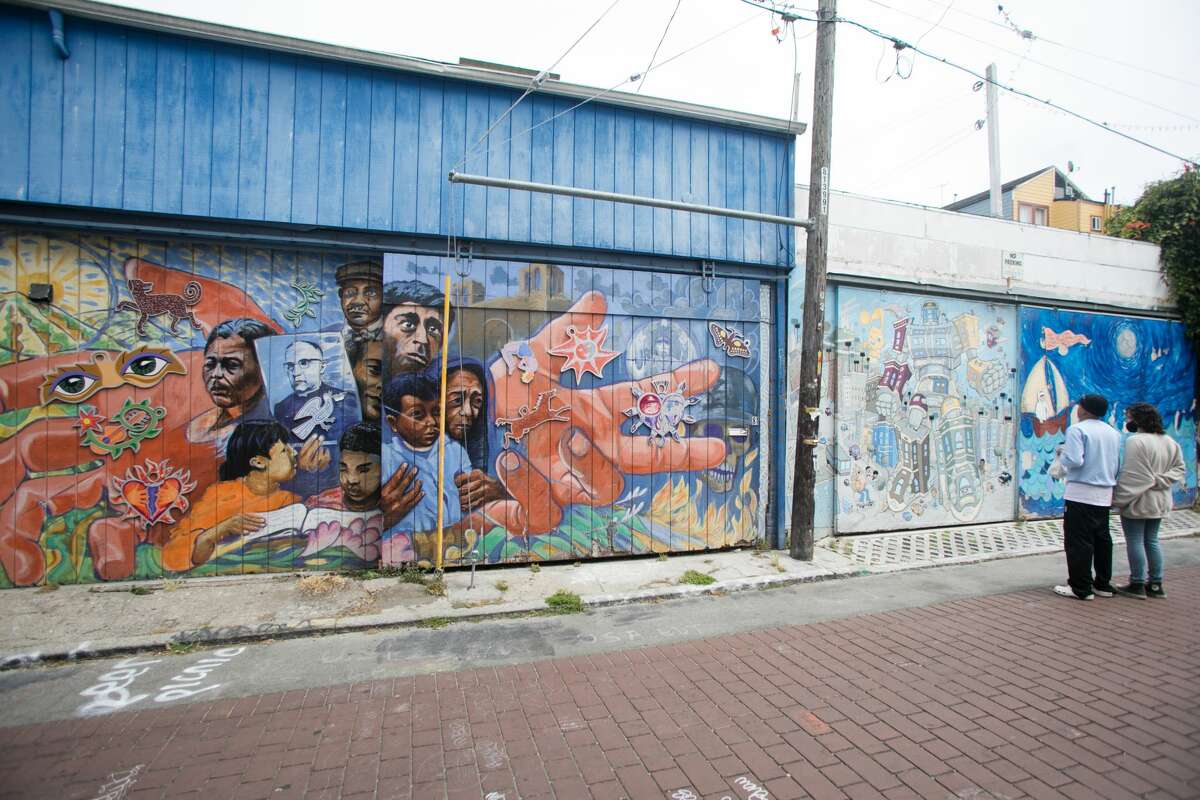 Balmy Alley
Another famous alley in the Mission, the walls of Balmy Alley are constantly changing, reflecting themes from global human rights to local gentrification through a variety of painting styles. It started in the '80s, largely in response to issues facing Latinx communities. The alley colorfully reflects the heritage of the neighborhood and the people who live here.
Find it: Balmy Alley, 50 Balmy St., San Francisco, CA 94110
Macondray Lane
Russian Hill is home to many quiet side streets and secret passageways. None are more charming than the verdant, car-free walkway between Jones and Taylor streets. Macondray Lane inspired Armistead Maupin's "Barbary Lane" in the nine-novel series "Tales of the City," and has been added to the National Register of Historic Places.
Find it: On Jones Street between Green and Union streets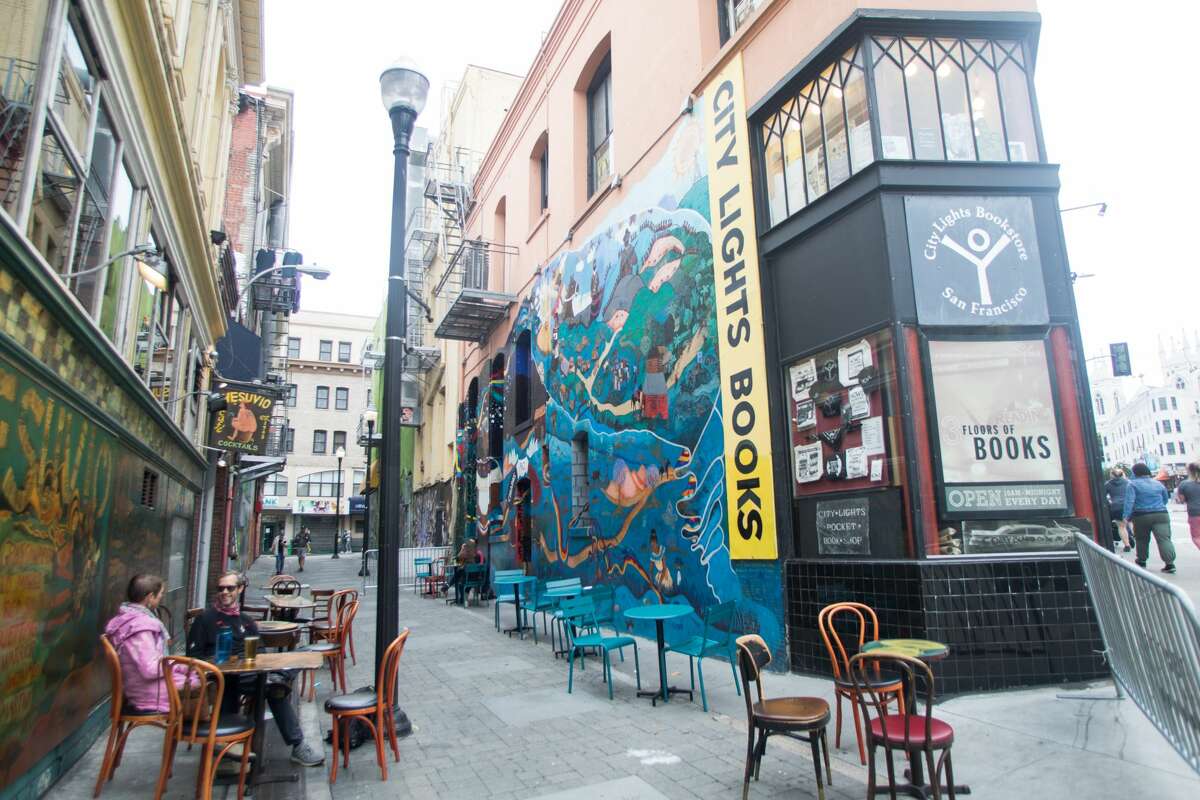 Jack Kerouac Alley
The iconic Vesuvio Cafe, popular with San Francisco's Beat poets, shares a painted wall with this colorful alley. Walking through it is the best way to travel between Chinatown and North Beach; on nice days, you can enjoy a drink in the alleyway while you take in the art and poetry that adorns the walls.
Source: San Francisco Gate